YOU ARE INVITED!
.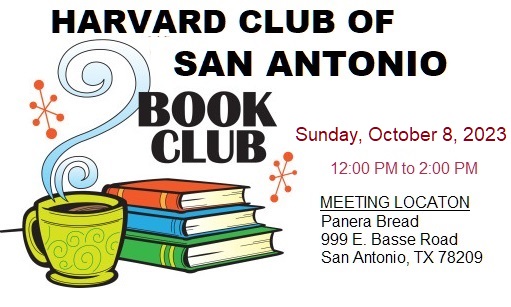 OCTOBER BOOK SELECTION
Evicted: Poverty and Profit in the American City, by Matthew Desmond
.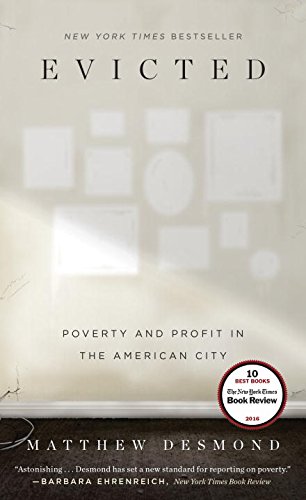 RSVP HERE!


Sunday, October 8, 2023, from 12:00 PM to 2:00 PM. We usually meet on the first Sunday afternoon of each month, but we're meeting on the second Sunday afternoon in October to have enough reading time after our 9/10/23 meeting.
Panera Bread at 999 E. Basse Road, San Antonio, TX 78209. Panera Bread has counter service featuring sandwiches, flat bread pizza, soups, salads, bagels, and pastries. They offer self-serve soda, lemonade, iced tea, coffee, and tea. We're free to have lunch or dessert. They encourage people to hang out. We'll try to snag the large, rectangular table that easily seats eight.

We'll take turns choosing books for the following month's meeting. I am recommending light fiction or non-fiction that will fit into our busy lives. Let's pick books that everybody will want to read, or at least books that nobody will not want to read.

This month's book is "

Evicted: Poverty and Profit in the American City

" by

Matthew Desmond. It

is available from Amazon in Audible audiobook, Kindle, and paperback form.

Please let us know if you will attend, get and read the book, be ready to calmly discuss sociology of poverty in America, and be ready to suggest another book for us to read. All you have to do is click on the above RSVP to let us know, and we'll see you on October 8th.
From the Amazon description:
In Evicted, Princeton sociologist and MacArthur "Genius" Matthew Desmond follows eight families in Milwaukee as they each struggle to keep a roof over their heads. Hailed as "wrenching and revelatory" (The Nation), "vivid and unsettling" (New York Review of Books), Evicted transforms our understanding of poverty and economic exploitation while providing fresh ideas for solving one of twenty-first-century America's most devastating problems. Its unforgettable scenes of hope and loss remind us of the centrality of home, without which nothing else is possible.