Do you have news to share with the San Antonio Harvard community?
Please send your professional or personal update to harvardclubsatx@gmail.com (subject: Alumni Notes) with your name, Harvard degree and year, and up to 150 words of text. Pictures are encouraged. We look forward to hearing from you!
---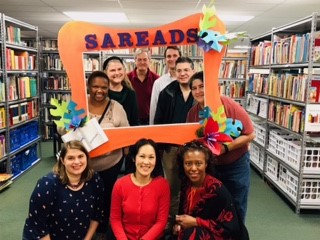 Harvard Club of San Antonio Support SA Reads!
On Saturday, January 12, 2019, members of the Harvard Club of San Antonio volunteered at SA Reads. Becky Huang, SA Reads Board Member and Harvard Club member, led the community service event. We had a great time cleaning, sorting, and shelving donated books so that teachers, students, schools, and nonprofits can access thousands of free books to supplement classroom libraries and eradicate book deserts in San Antonio. The Harvard Club of San Antonio showed up to support SA Reads' literacy campaign, and club members are discussing ongoing community service opportunities with Becky. The day wasn't only spent working, club members enjoyed good fun, good conversation, and networking at Picnikins Patio Cafe afterwards.
Stay tuned ... The Harvard Club of San Antonio members have a few more education-based community service opportunities in the works for 2019 and beyond. If you are interested in education and community service initiatives, your help would be much appreciated!
---

Harvard Beats Yale 29-29 - Tom DeBrooke Was There
Seems, more or less, just like yesterday… I had just completed my studies at Yale; Arleen and I (and by then our 3 daughters, the youngest (Leah) being less than a month old - having been born on my Yale Graduation Day - had moved to a 4-plex at 282 N. Harvard Street in Allston, to begin HBS in September. The Summer was spent back home in San Antonio, among other things taking in HemisFair '68. As we did in New Haven, we secured, at home, Season Tickets for the now Harvard games. On that Saturday in November, we really did not care who won, we were there for the Fall's excitement. We celebrated with every point scored that afternoon…regardless of the jersey color. By the by, when we left Boston to return home to San Antonio with MBA in-hand, daughter number 4 (Katy) had arrived and was 6-months old - as we all piled into our yellow VW Bug for the journey back to Texas.
Learn more about the famous Crimson comeback here (YouTube) or here (Wikipedia).
Tom DeBrooke, MBA '72
---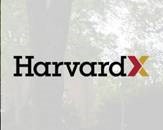 HarvardX
Didi Weinblatt, R'65, has enjoyed continuing her life-long learning thanks to HarvardX, Harvard's MOOC program. She is currently enrolled in HUM12X: Masterpieces of World Literature given by Harvard Professors David Damrosch and Martin Puchner. This course takes off where her undergraduate Hum 2 course left off. Readings and discussions include The Epic of Gilgamesh and more recent writers like Salman Rushdie and Orhan Pamuk. The course also includes interviews with fellow Harvard professors which add richness and depth.
Didi previously enjoyed a course in American Government given by Kennedy School Professor Thomas E. Patterson.
Courses given include myriad topics. And best of all, they are free. Didi urges you to check them out at:
---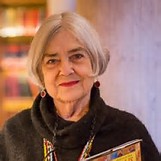 Sherry Kafka Wagner one of KENS5 People Who Make San Antonio Great.
Harvard Club of San Antonio Member Sherry Kafka Wagner was recently interviewed on Kens5 in a segment on "People Who Make San Antonio Great." Sherry, who trained at the Harvard Graduate School of Design, helped design many of San Antonio's most beloved features.
Watch the segment here: KENS5 Interview of Sherry Kafka Wagner.
---
Steven Alexander completing M.S. in Data Analytics
Steven Alexander (AB '76) is finishing a MS degree in Data Analytics this summer at UTSA. He's hoping to find a data science position in San Antonio. Harvard Business Review calls it "the sexiest job of the 21st century." It was a strange feeling to be back in the classroom after a career in Information Technology, but GRE, lectures, textbooks, homework, and exams have been an exciting challenge.
---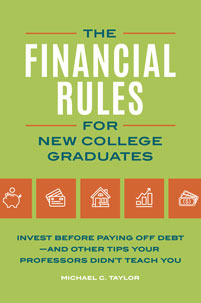 Michael Taylor publishes his first book
Michael Taylor (AB '95) has published his first book, "The Financial Rules for New College Graduates". He also writes a weekly finance column for the San Antonio Express News and Houston Chronicle. The target audience is twenty-somethings about to make a series of consequential decisions regarding debt, savings, retirement-planning, insurance, home-buying, and investments, with clear guidelines and advice anyone (especially non-experts) could follow. It's a perfect graduation gift from proud parents or grandparents!
---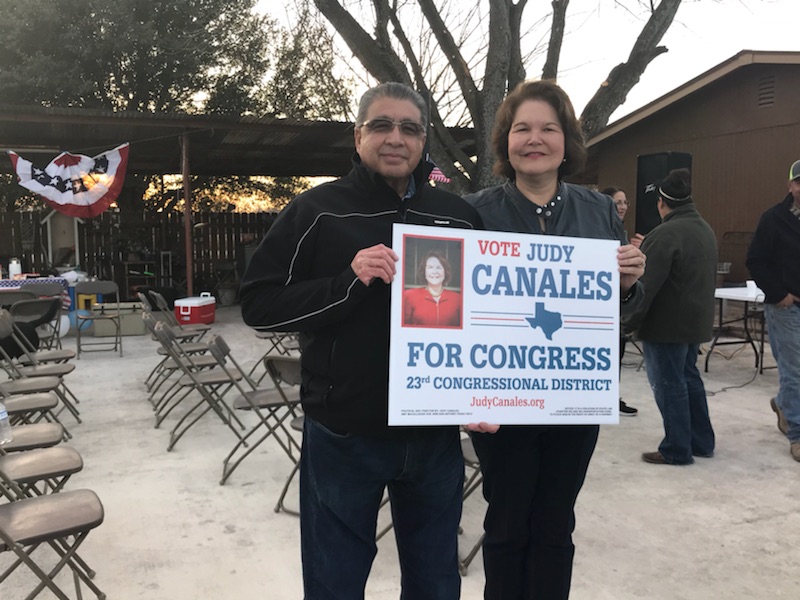 Judy Canales runs for Congress
Judy Canales (MC/MPA '96), John F. Kennedy School of Government, just completed running for the Texas 23rd Congressional District. She was one of five candidates competing in the March 2018 Democratic Primary. While she narrowly missed competing in the upcoming runoff election, it was a great experience. The Texas 23rd Congressional District is a vast 29-county region that runs from southwest Bexar County to the Rio Grande at Eagle Pass, along the Big Bend and up to El Paso. Prior to her run for the U.S. Congress, Judy served for eight years in the Administration of President Obama. During the first term, she served in Washington, D.C. as the Administrator for the USDA Rural Business-Cooperative Services. In the second term, she was based in College Station, Texas and made history as the first woman to be appointed as the State Director of the USDA Texas Farm Service Agency. Judy and her husband, Juan Antonio Tovar Jr., reside in Eagle Pass, Texas.
---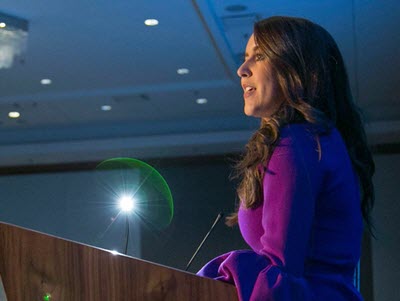 Celina Moreno (HKS) Receives Prestigious Award
Celina Moreno --HKS grad and San Antonio-based advocate--was honored by the Center for Public Policy Priorities with the Future of Texas Award. Huge congratulations to Celina!
---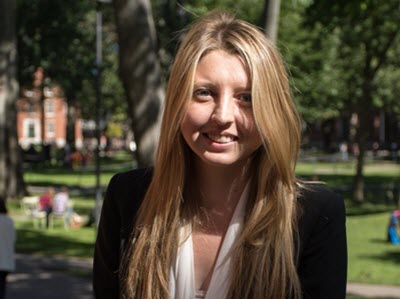 Berkeley brown, tmi 2014, harvard ab 2018, elected first class marshall
Our very own Berkeley Brown (TMI 2014) was just elected to be the First Marshal of the Harvard Class of 2018! The senior class elects eight marshals to help lead them through senior year and commencement week. Of those eight, one is chosen to be the First Marshal. Berkeley Brown was just chosen for this very special honor. Read more below. "I'm just so excited to be in this role, and so humbled and shocked just by my classmates coming out to vote and supporting me," Brown said. "I really want these events and initiatives to help allow the class of 2018 to reflect on what's been important to them in their time here." Read The Crimson article about Berkeley's election here!
---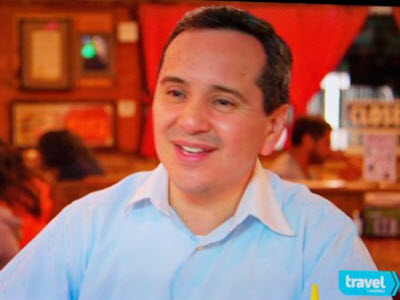 Edmund Tijerina wins Food Journalism Award
Edmund Tijerina (AB '87) led the Taste section of the San Antonio Express-News to best newspaper food section in the country in its circulation class from the Association of Food Journalists. The awards were announced Sept. 13. He left his position as Food and Drink Editor earlier this year and now works as a freelance content writer and continues his food writing at San Antonio Magazine, Rio magazine and his own site, SanAntoniosBestRestaurants.com.
---